Valentine's Day Gift Ideas: A Ukulele for Your Love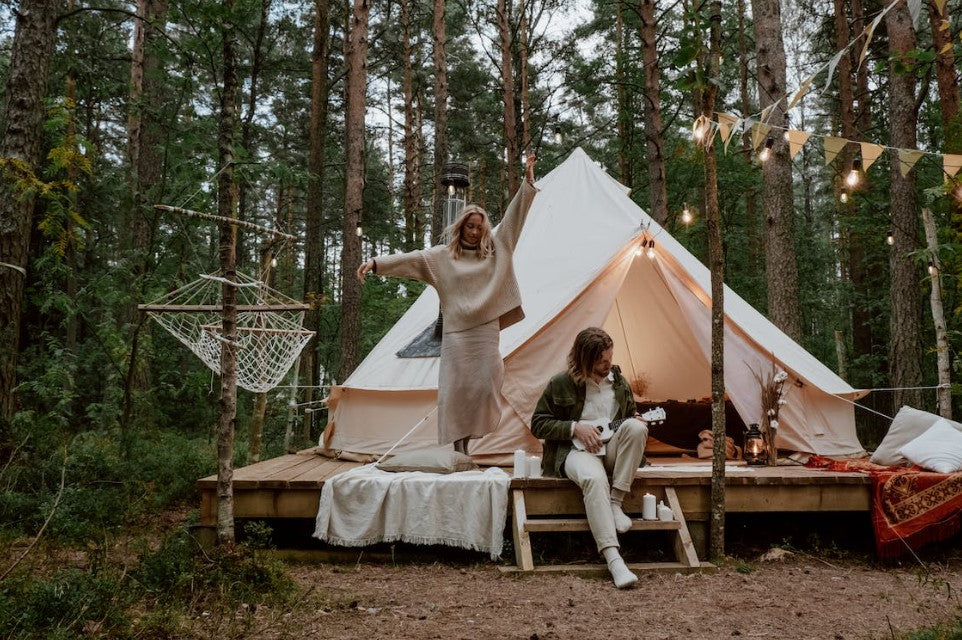 Ready to invest in some romance this Valentine's Day? Instead of wasting your time and money on a predictable gift, give them something wonderfully unique: the sweet sounds of a ukulele! Not only will they admire your thoughtfulness, but you'll have plenty of music-filled moments together.

This lovely instrument symbolizes not only love and romance but also a chance to explore our hidden artistic talents—truly, the gift of music!

Whizkid musician? Amateur strummer? No problemo! We have plenty of ukulele collections to give as a gift so they can enjoy crafting those romantic melodies, all dedicated to YOU, no matter their skill level.

Here are some of the reasons why a ukulele makes a great Valentine's Day gift:

It's portable.
With its petite form and an air of adventure, the ukulele is the perfect companion for wherever life takes you! Its compact size makes it ideal for cramped spaces or those on the go, whether they're off to explore distant shores, take in some camping vibes at home, or just relax. Treat your special someone to a vacation from anywhere—give them an everlasting traveling companion: their very own Uke!

It's romantic.
Music provides the perfect way to express affection for Valentine's Day, and what better instrument than a ukulele? Its sweet sound can bring any love song—romantic or silly—alive with each strum. A perfect musical gift to show your loved one how much you care!

It's unique.
When it's time to choose a gift for your special someone, why not pick one that will help them stand out in the crowd? A ukulele is just what they need! Not only does this unique instrument have its own sweet sound and irresistible style options, from classic designs to modern vibes, but you can also find a ukulele that fits perfectly with your individual flair. Go ahead, surprise them today, and make some music magic happen!

It's affordable.
For those who want to make beautiful music without breaking the bank, a ukulele is an ideal choice. It's much more affordable compared to other instruments, such as guitars, and you can get high-quality options for reasonable prices! So if someone special in your life has musical aspirations, why not treat them with this budget-friendly instrument?
Choosing the Perfect Ukulele for Your Special Someone
If the person in your life loves music but isn't sure what instrument they want to learn, a ukulele may be just the ticket. This tiny four-stringed gem is portable and affordable, yet it still packs enough punch that even professionals find it delightful!
The only challenge? With so many different types of ukuleles out there—from soprano to baritone—how do you choose which one will suit them best? Before making this important decision, consider these different factors when choosing a ukulele:
Size
Ukuleles come in four different sizes: soprano, concert, tenor, and baritone. Soprano ukuleles are the smallest and have a high, bright sound, while baritone ukuleles are the largest and have a deeper, bass-like sound. The concert and tenor ukuleles are intermediate sizes and have a balanced sound. When choosing a ukulele, consider your loved one's age, skill level, and personal preference. They might want to consider a soprano or concert ukulele if their hands are small to medium-sized. It may be more convenient for them to play a tenor or baritone ukulele if they have larger hands or fat fingers.
Material
When selecting the perfect instrument for your loved one, there are two main ukulele materials to consider: wood and plastic. Wood is a timeless option that delivers a warm sound—great for experienced players who appreciate tone quality above all else! Plastic-made instruments offer unbeatable durability and affordability—ideal if you're gifting an aspiring musician on their first musical journey. Ultimately, it comes down to personal preference (and maybe pocket depth), so be sure to do some research before deciding which type of uke best suits them!
Price
When it comes to buying a ukulele, your budget can play an important role in the type you choose. For beginners on a tight budget, there are plenty of great entry-level options that offer good sound and quality construction for under $100. On the other hand, if you're looking for something more advanced or durable, then higher-priced models may be worth investing in—perfect for experienced players who want the best possible playing experience!
Design
Ukuleles make great gifts for any age and come in a huge array of captivating colours, patterns, and designs. Taking the recipient's taste into consideration when choosing one is key; why not match their style with something vibrant? Alternatively, if you're looking to gift an older player, opt for a timeless, classic design that will never go out of fashion!
Brand
When selecting a ukulele as the perfect gift, look no further than well-known brands such as Cordoba, Ohana, and Kala Brand. But don't forget to check out trending makers like Bondiukuleles or Enya ukuleles, which are quickly becoming popular amongst players of all levels! For those seeking high-end instruments with superior sound quality and craftsmanship, Romero Creations or Anuenue's Taiwan-made ukuleles may be worth researching for an extra special touch.
Final Thoughts
A ukulele is a gift that keeps on giving. Not only will your loved one appreciate the thoughtfulness and uniqueness of the gift, but they'll also have a blast learning to play it. When choosing a ukulele, there are several factors to consider, such as size, material, price, design, and brand. And of course, you'll want to take your loved one's personal preferences and skill level into account.

If you're feeling overwhelmed by the vast selection of ukuleles available, we can help! Our Buyer's Guide is here to walk you through purchasing your ideal instrument. Don't miss out on playing this unique and fun stringed instrument—get started now with our guide!

With so many different types of ukuleles available these days, you're sure to find the perfect one for your special someone. So which ukulele do you prefer? Let us know in the comments below!