Pink Ukulele: Why Pink Ukuleles Are The Ultimate Statement Piece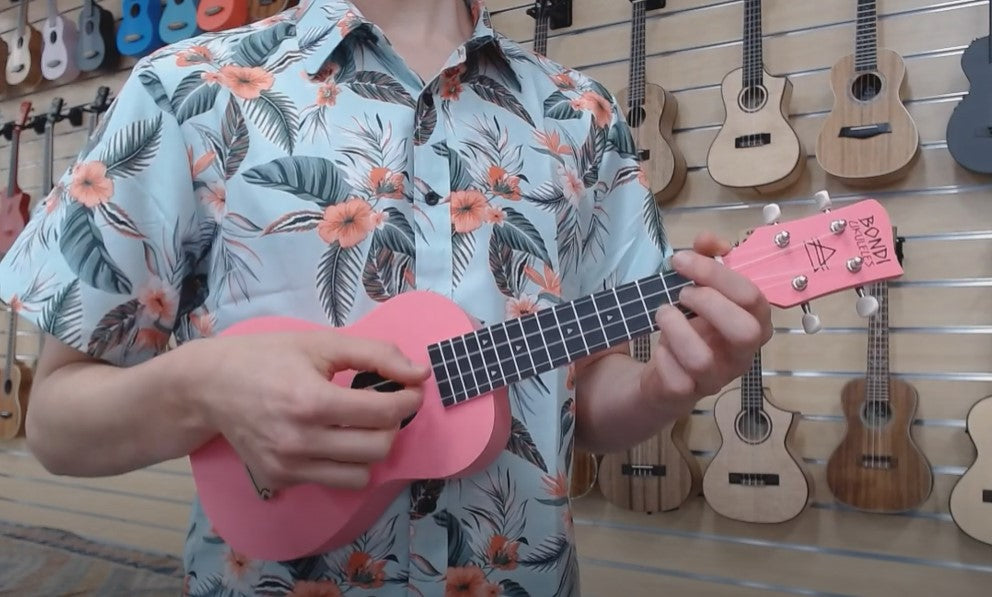 Who says the world of music has to be all black and white? It turns out that many music lovers have been bitten by the pink ukulele bug—and we can't blame them. There's just something about strumming on a pink ukulele that gives you a certain je ne sais quoi.

So, being the helpful folks we are, we've scoured the market to bring you a list of the best pink ukuleles out there.
Now, I have some news that might surprise you. During my research for this article, I found out that the vast majority of pink ukuleles available on Amazon are priced at less than $50. In fact, some of them were even below $30 at the time of my writing!
But, I have to be honest with you. Not all of these ukuleles in this price range are of good quality. As someone who has worked in the music retail industry for years, I've had the chance to see firsthand how some of these cheaper ukuleles can fall short. I even wrote an article about cheap vs. expensive ukuleles. You may want to check it out to see the difference.
But don't worry, we're here to help! In the next section, I'll highlight some of the better pink ukulele models I've come across that could be worth considering. So stay tuned!

Here are just a few reasons why a pink ukulele is a perfect choice for anyone looking to add some flair to their music-making:
Why Pink Ukulele?
A pink ukulele is, first and foremost, undeniably cool. It's a statement piece that will set you apart from the crowd of uninteresting, boring instruments. Whether you're playing on stage, at a jam session, or just in your living room, a pink ukulele is sure to turn heads and spark conversation. And let's face it—who doesn't love a little attention?

A pink ukulele, however, isn't just about the looks. It's also a great piece of musical instrument in its own right. Although the ukulele is frequently considered a beginner's instrument, this does not negate its versatility or ability to create beautiful music. In fact, the ukulele has been gaining popularity in recent years thanks to its unique sound and accessibility.

And a pink ukulele is the perfect way to tap into that trend. With its bright, cheerful colour, it's a great way to inject some fun and energy into your music-making. And because the ukulele is relatively easy to learn, even beginners can quickly pick up some basic chords and start strumming away.

Of course, not all pink ukuleles are created equal. You'll want to look for one that's well-made and sounds great. But don't worry—there are plenty of high-quality pink ukuleles out there that are perfect for players of all skill levels.

Whether you're a beginner on a budget or an advanced player looking for top-notch quality, we've got you covered. So why settle for a boring old uke when you can add some colour to your music? Check out our picks and get ready to play in style.
Makala Dolphin Pink Gloss Soprano Ukulele
One great option is the Makala Dolphin Pink Gloss Soprano Ukulele. Just like its other Makala siblings, this pink ukulele is like the Chuck Norris of instruments—tough as nails and built to withstand even the roughest kids. They're like mini tanks, built to withstand even the most rambunctious kids with ease. And with their immunity to humidity, you can forget about the weather affecting your child's musical pursuits.


But let's talk about the most important aspect of all—the looks. These ukes are cute as a button and cool as a cucumber, with their vibrant pink gloss finish and sleek design. You'll be the envy of the playground with this bad boy in hand—and let's face it, who doesn't want to be the coolest kid on the block?

So if you want an instrument that can take a beating and look stylish while doing it, the Makala Dolphin Pink Gloss Soprano Ukulele is the way to go.
 Enya Nova U Carbon Concert Ukulele - Pink
Are you ready to level up your ukulele game? Then feast your eyes (and ears) on the Nova U series by Enya. These carbon fibre wonders will blow your mind with their bright, lively tones—perfect for wowing audiences or just jamming out at home.
But it's not just about the sound—the Enya U's sleek, ergonomic design ensures maximum comfort for those marathon practice sessions or epic on-stage performances. And let's talk about Enya for a sec. These guys are like the Elon Musk of the ukulele world, always pushing the boundaries of what's possible with their cutting-edge materials and innovative designs.

And the best part? These babies won't break the bank. Enya is all about making music accessible to everyone, and its affordable prices reflect that mission. So what are you waiting for? Join the Enya revolution and rock out like a pro with the Enya Nova U Carbon Concert Ukulele.
Bondi Surf Ballerina Pink Soprano Ukulele
Another excellent choice is the Bondi Surf Ballerina Pink Soprano Ukulele. This is the perfect instrument for beginners who want the quality you expect from Bondi without breaking the bank.

Crafted from beautiful mahogany for the top, back, and sides, these ukuleles are built to last. And unlike other cheap plastic ukuleles, the body is deep enough to give you unparalleled resonance and a tone that will make your ears sing. Plus, the fretboard is made from exotic Purpleheart wood, and the one-piece Walnut bridge is a sight to behold—all features you'd never expect to find at this price point.


But here's the kicker…

These ukuleles play like a dream. No cheap materials or shoddy construction here—Bondi has used the same top-notch building techniques and quality control they use on their higher-end instruments. And with premium tonewoods, you'll be creating sweet, sweet music that'll make even the most seasoned musicians green with envy.
So if you're looking for a ukulele that's perfect for beginners but won't let you down as you progress, look no further than Bondi's Surf Ballerina Pink Soprano Ukuleles. These beauties will last you for years to come, and with their killer sound and stunning construction, you'll be the talk of the town—or at least the talk of your ukulele club.
Real Instrument
Perhaps the best thing about a pink ukulele is how versatile it is. It's not just a novelty item or a toy—it's a real instrument that can be used in a variety of musical settings. Whether playing solo or in a band, it can hold its own and add a unique touch to your sound.

And let's not forget about the fun factor. Playing a pink ukulele is just plain enjoyable. It's a lighthearted, joyful instrument that's perfect for lifting your spirits and putting a smile on your face. And isn't that what music is all about?

A pink ukulele is an excellent choice for anyone looking for a stylish, fun, and versatile musical instrument. It's a statement piece that's sure to turn heads, but it's also a high-quality instrument that can produce beautiful music in a variety of styles.

So whether you're a seasoned musician or just starting out, a pink ukulele is definitely worth considering.

And let's be honest—there's just something about a pink ukulele that makes it stand out from the crowd. It's not your average guitar or piano—it's a unique and quirky instrument that's perfect for anyone who wants to add some personality to their music.

Plus, a pink ukulele is a great conversation starter. Whether you're playing in public or just showing it off to friends, you will surely get plenty of questions and compliments. And who doesn't love a little attention, right?

But even beyond its stylish appearance, a pink ukulele is a genuinely great instrument. It's small and portable, making it easy to take with you wherever you go. And because it only has four strings, it's much easier to learn than other instruments like the guitar or piano. Plus, with the wealth of online tutorials and resources available, it's never been easier to start learning the ukulele.

And don't let the ukulele's reputation as a "beginner's instrument" fool you—it's capable of producing some truly beautiful music. Whether you're into traditional Hawaiian tunes or modern pop songs, the ukulele has a unique sound that can add depth and complexity to any musical style.

So if you're looking for a musical instrument that's both fun and versatile, consider a pink ukulele. It's a great way to add some flair to your music-making and inject a little personality into your performances. Plus, with its easy-to-learn nature and unique sound, it's a great choice for musicians of all skill levels.

In short, a pink ukulele is not just a fashion statement—it's a genuine musical instrument that's well worth your consideration. So why not give it a try and see what kind of magic you can create with this colourful little instrument? Who knows? You just might fall in love with it!