Pineapple Ukulele: A Definitive Guide For Beginners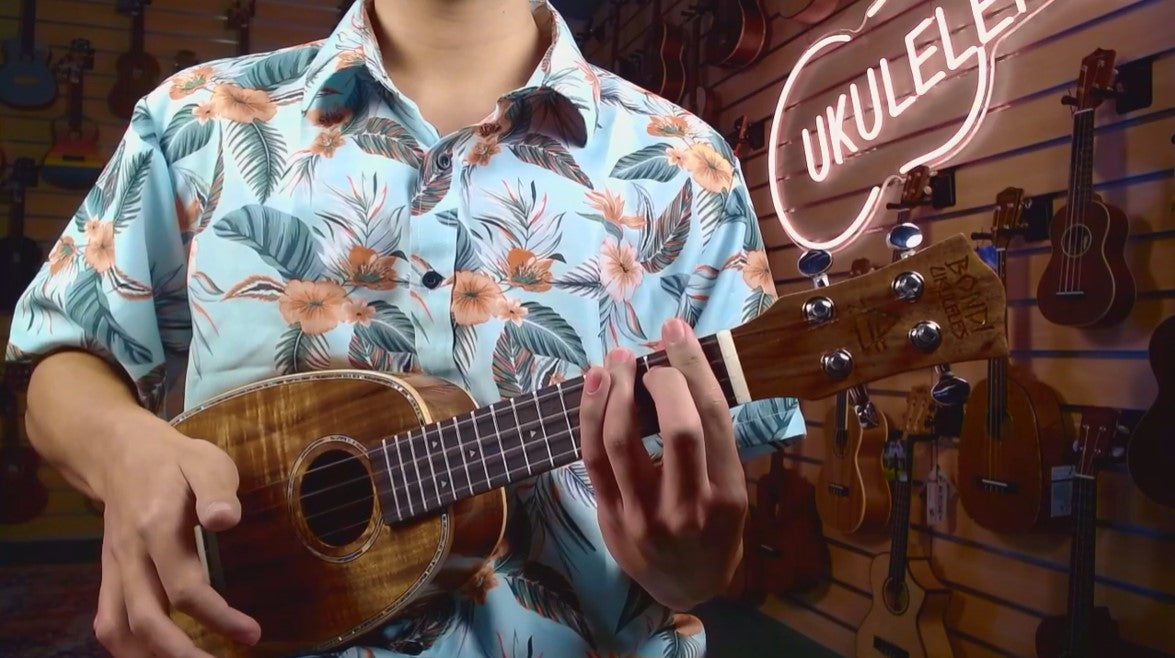 If you've ever wanted to channel your inner Aloha spirit and jam out with a tropical-looking ukulele that is both eye-catching and melodious, then the pineapple ukulele should be at the top of your list!

From its distinctive shape to its bright sound, this type of ukulele has been around for years and still remains popular today among musicians and ukulele lovers alike.

Whether you're an amateur lutenist or a seasoned strummer, we're here to give you some interesting information about the pineapple ukulele that you may not have known!
Want to know everything there is to know about pineapple ukuleles? Look no further! This guide has everything you need to get started.
Read on as we share some incredible facts about this unique instrument.
What Exactly Is A Pineapple Ukulele?
If you thought ukulele family reunions couldn't get any bigger, think again!

Introducing…

The lovely Pineapple Ukulele!

It's tuned to that famous GCEA sound we all know and love—just like your other favourite members of this musical clan.

But unlike its kinfolk, it rocks an unmistakable Hawaiian vibe with a carvable shape for fruity flair! Talk about standing out from the crowd…

Ready to get your feet tapping?

Let's explore the sweet, tropical world of pineapple ukuleles. We'll delve deeper into why these instruments have a unique sound and shape compared to soprano ukuleles. And then, we determine what makes them so playable before wrapping up with our top picks!

Let's get acquainted with the delightful Pineapple Ukulele! As we learn more about this wonderful instrument, who knows what possibilities await us? So let's get started, shall we?
Pineapple ukulele history:
The pineapple ukulele is widely thought to have been created by Sam Kamaka, the owner of Kamaka Ukulele.

It was in 1928 that Kamaka had an idea that revolutionized the musical instrument industry: an oval-shaped ukulele. This design, in his opinion, would be easier to construct and produce a better sound.

At that moment, it became astonishingly clear how stunning the resemblance was between a pineapple and the instrument—hence the birth of the awe-inspiring pineapple ukulele!


This invention was novel enough to warrant patenting, so being ahead of his time, he did just that. Now, this unique design is still around today for all to enjoy!

Take a good look and decide for yourself—is it really better, cheaper, AND more stylish? Go ahead and cast your verdict!
Do pineapple ukuleles sound better?
Well, they've caused quite a stir! Is it all just hype, or do these creative instruments really deliver when it comes to sound quality? That's the burning question on everyone's mind.

Although comparing the tones of various instruments can be somewhat subjective, the majority of players who have tried the pineapple ukulele have nearly identical opinions.

When compared to ukuleles with traditional shapes, they have slightly different sounds.

The exotic pineapple ukulele is far more than just a visually striking instrument. The science behind a vibrant pineapple ukulele sound is its larger body and the air it holds.
-
The greater air volume and longer length of this unique shape mean that the vibrations travel freely across its body. Since the ukulele's wood is longer and does not curve inward, vibrations are produced throughout the whole instrument. This results in a more powerful resonance, creating a truly distinctive tone!

When it comes to the sound of a ukulele, more than just luck is involved! Materials, construction, and strings are all essential elements in creating an amazing audible experience. In fact, even pricier models need a proper setup for that sweet strum. Put simply, don't expect pineapple-shaped cardboard boxes to produce concerto-quality tunes!
Tuning a Pineapple Ukulele
A pineapple ukulele is a unique, tropical twist on the classic instrument—but don't worry! You get all of that sweet island sound with the pineapple ukulele, but none of the complicated tuning! This lively ukulele is strung in GCEA, just like traditional models.
How Much Does a Pineapple Ukulele Cost?
When it comes to ukuleles, price is no obstacle—whether you're in the market for a basic pineapple model or an extravagant one with all the bells and whistles, there's something out there to suit whatever your budget.
Entry-level: $50-100
Mid Range: $100-300
High End: $300 and up
Here are our top picks:
 Makala Pineapple Soprano Ukulele
On a budget, but still want to sing your heart out? Look no further than the Makala Classic line of ukuleles. These entry-level instruments combine fantastic sound and vintage vibes with an affordable price tag—so you don't have to sacrifice quality for cost!
Bondi Arcadia Mahogany Tenor Pineapple Ukulele
Who would have thought that pineapples could make such beautiful music? Bondi has taken their already great-value instruments and added some tropical flair with a pineapple-shaped ukulele. Get ready for an authentic Hawaiian experience when you play—the sound is sweet, traditional, and full due to increased resonance from its larger body size! Ukes don't get any better than this tenor gem.

Choosing between this pineapple and its figure-8 cousin is like deciding which star to wish on—they're both dazzling! The indigo pearl rosette, maple body binding, and black ebony fretboard—it's a feast for the eyes. Even UkuleleMate can't deny that we've fallen head over heels in love with it.
Ohana TTPK-25G Solid Mahogany Sopranissimo Pineapple Ukulele
Step aside tiny guitars, the sopranissimo pineapple ukulele is here to bring some sunshine and joy! Whether you're a fan of John Daniel's Pixies or any other brand out there - one thing's for sure: these small-scale instruments pack big fun. So go ahead and unleash your inner islander with this sweet Ohana jam session ready uke!
Bondi Ripple Koa Pineapple Soprano Ukulele
The Bondi Ripple Koa pineapple ukulele stands out from the rest as it is made with a rare and incredibly special kind of wood, native to Hawaii. Not only does this shiny wooden wonder have beautiful aesthetics, but its sound quality is second-to-none! It's no surprise that this prized possession comes with quite the price tag given its extraordinary craftsmanship—after all, why settle for anything less than perfection?

Ready to add a splash of tropical flair to your tunes? Bust out the Bondi Ripple Koa Pineapple Ukulele and get ready for everyone in your living room—or on the beach!—to do a double-take. Not only is it an eye-catcher, but this ukulele's solid wood build means its sound won't be going anywhere soon - no matter how hard you strum or age with grace. Plus, at such an unbeatable price tag, one purchase could last until kingdom come (but we don't blame you if you want more). Who knew playing music was as easy as eating pineapple pizza?
FINAL THOUGHTS
If you want to strum in style, it's time to get a pineapple ukulele! Not just any old instrument, this revolutionary model gives traditional types something entirely different. So if your goal is standout sound and unique visuals, the pineapple will take center stage at every ukulele meetup. You won't regret it—just make sure you have pineapple juice handy for all those musical jam sessions. And there you have it, my friend—our lesson in pineapple ukuleles. We hope that by now your mind is full of the sweet music these instruments make. Happy strumming!