How To Play James Taylor's Fire And Rain On Ukulele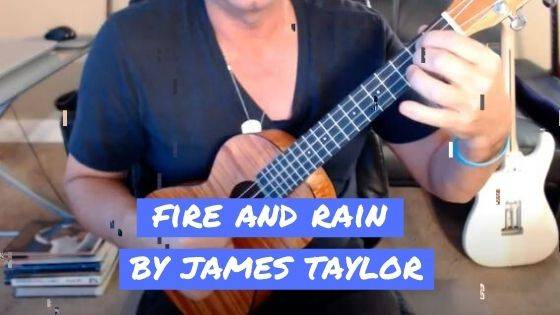 A Little Info About This Lesson
"Fire and Rain" was written in 1968. The song reflects many difficult stages that James Taylor has gone through his life. There are three verses. Each verse deals with adversity that he faced along the way - The first one is about a friend who committed suicide, another is about his addiction to heroin, and the third one refers to a mental hospital and a band called, "The Flying Machine" which he started.
Though James Taylor mentioned that he can't stand to hear his songs on the radio, "Fire And Rain' remains a song he likes to sing and one that many audiences always wait for.
Of course, we won't get this beautiful song go unnoticed in the ukulele community. Jeff created a ukulele version with a really solid sing-along style version. He had to put the song in the key of A to fit the ukulele better. All the signature guitar-style licks are in the intro and just the strumming style for the verses and chorus. Learn how to do the intro in fingerpicking. Jeff has all the details and notations. Enjoy!
Jeffrey's Instructional Video
Book A Free Lesson with Jeffrey Thomas
Jeff is offering a free 30 minute lesson over Skype to ukulele players of any level. Jeff is the best in the business and can provide expert knowledge on mastering "Fire And Rain" by James Taylor and many more songs of your choice. Jeff is a friend of ours at UkuleleMate and has been teaching Aussie students for many years, we can't speak highly enough of him. We encourage you to go ahead and schedule your free lesson today.