How Quickly Can I Learn The Ukulele?
As a beginner, picking up the ukulele can be intimidating at first. You will likely ask yourself...
"How quickly can I learn the ukulele?"
Well, in this article, we'll discuss how long it takes to learn the ukulele. Furthermore, what are the key points that you should remember to optimize your learning process?
Though it may seem that anyone can pick up the ukulele quickly, you need to practice it for months or even years before you become an accomplished player. Age, time constraints, and even a lack of motivation are factors that will make it difficult for you to continue practicing.
Nonetheless, it's never too late to learn!
What Is the Learning Curve for Ukulele Playing?
If you have never held a musical instrument before, it will take you several hours to learn the fundamentals of holding and playing the ukulele. Approximately five hours may be needed, maybe even more. Starting with fretting a chord to being able to strum. Most likely, you will be able to make some music in an hour or so. It will, however, sound very basic.
You will have a much easier time picking up the ukulele and playing it if you are familiar with other stringed instruments; particularly if they have similar features, such as strings and frets. This is true for most guitarists. With a little practice, they could easily play a song in an hour or two.
Ukulele Tips and Practices to Improve Your Ukulele Playing
To learn how to play the ukulele, you should start with understanding simple chords. By doing this, you get the hang of things before trying more complex ones. With a few simple chords on the ukulele, you can also play a lot of songs already, since many popular songs have four chords.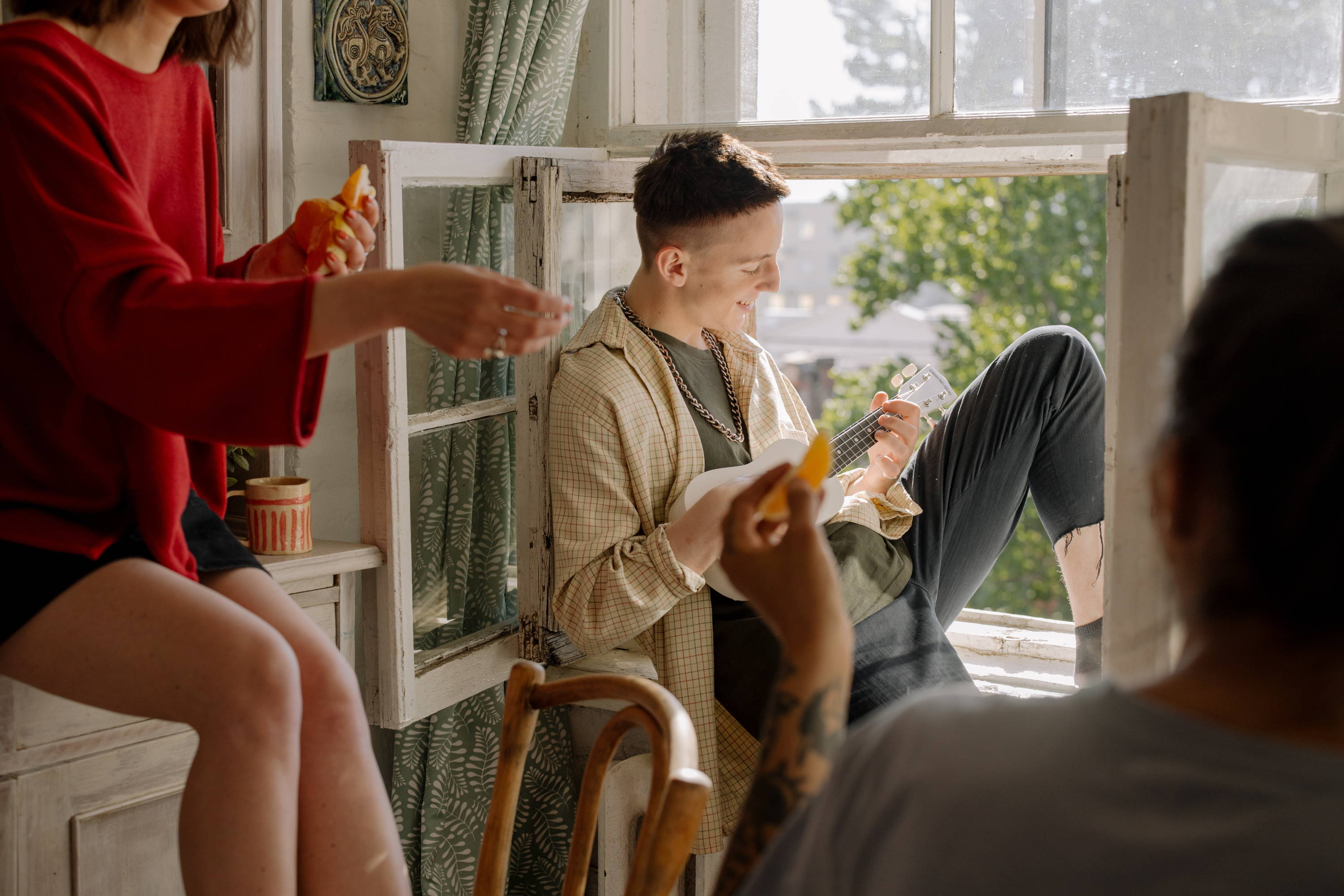 Here's a good tip...
If you want to learn different chords more efficiently, try to practise two chords per week until you are familiar with all of them. Using this technique, you will be able to memorize each chord easily. Before you know it, your fingers will naturally find their position on the fretboard without even thinking about it.
Playing the ukulele well requires continuous practice, so always try to practice as much as you can. If you want to learn faster, practice every night after work or every weekend. Practising two or three times a week should do the trick.
If you have a busy life and have trouble finding time to practice the ukulele, you can also pick up lessons in short intervals instead of having to practice for long periods. Be sure to find out what works for you and keep it up so that your practice sessions are productive.
How to Choose Your First Ukulele
Before you buy a ukulele, compare the different types and sizes available. All ukuleles have different characteristics and come in different sizes as well.
A soprano ukulele would be a great option if you're looking for something smaller and less expensive. Considering how small they are, the sound quality is also good, but not as loud as the concert or tenor ukuleles.
For those who want a larger and more powerful sound, tenor and concert ukuleles would be the right choice. Compared with a soprano, these ukuleles are slightly bigger.
Concert ukuleles are somewhere in between. This means they capture that classic ukulele twangy sound of an acoustic soprano uke, but with more volume and resonance. This makes them the perfect choice for live performances such as concerts.
Meanwhile, tenor ukuleles are larger than soprano and concert sizes. This allows them to produce more volume and warmer sounds than their smaller siblings. Because they have a longer fretboard, they are perfect for players who love fingerpicking.
Ukulele Learning Resources
Ukulele beginners can find a variety of resources to help them learn the instrument. You can start by reading ukulele books (this is included in our bonus pack when you order a ukulele from us).
One way you can do this is by picking up some books and reading through them until you grasp a better understanding of the basics. Alternatively, you can also search online for free ukulele lessons. With YouTube alone, you can find more than enough ukulele tutorials to get you started.
Additionally, you can download a lot of ukulele apps to your phone. Whenever you need them most of these resources are readily available at your fingertips, making them very easy to use. Learning how to play the ukulele will be easier than you could ever imagine with all these resources at your disposal.
Now, going back to your question…
Can you become good at ukulele in a short period of time?
Well…
Of course, you can! But, it will all come down to your dedication and discipline. As with any instrument, or hobby, being very passionate about it accelerates the learning process.
Treating it like chore stunts your growth as a ukulele player. It will also take away all of the enjoyment you might get from it.
Let's move on to the last part. If you're thinking of getting a ukulele, we have good news for you. At Ukulelemate, we offer a wide range of ukulele models for people at different stages in their musical journey. In fact, we have ukuleles in a variety of sizes and wood types.
We carry a collection of different brands, so there are plenty of options for you. Whether you are a novice or a pro, our team can help you choose the right ukulele for you. So don't hesitate to reach out to us!
---
1 comment
---