What Is The Best Amplifier For A Ukulele?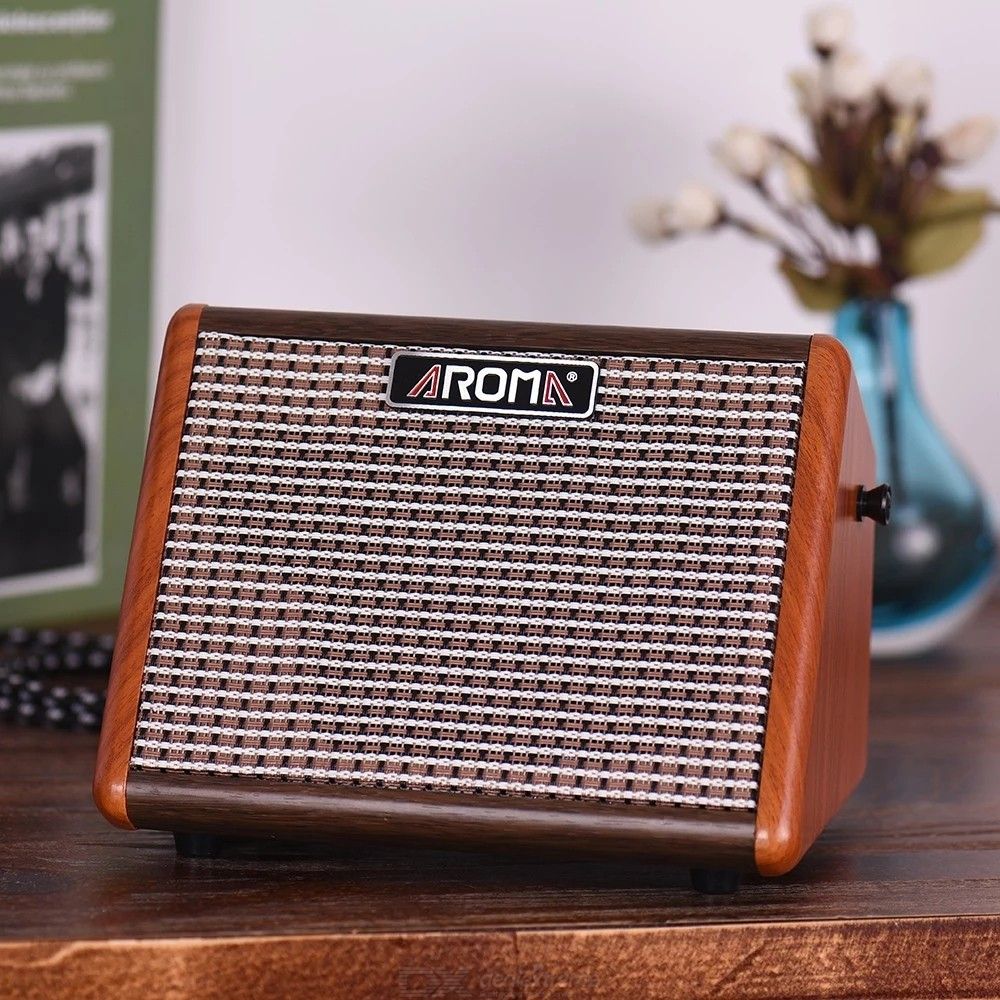 Are you ready to take your ukulele playing to the next level? If so, you'll need an amplifier! Whether you're looking for a powerful amp for concerts or a more subtle one for practice, choosing the right amplifier for your ukulele can be daunting. Here's what you need to know.
Amplifiers Come in Different Sizes and Types
Ukulele amplifiers come in two basic types—acoustic amplifiers and electric amplifiers. Acoustic amplifiers are designed specifically to amplify acoustic instruments such as ukuleles, while electric amplifiers are designed to amplify electric instruments such as guitars. You'll also want to consider size: most amps come in either combo or head/cabinet formats. Combo amps combine the amplifier head (the part that contains all of the controls) with a speaker cabinet, while head/cabinet amps require you to purchase both components separately.
Choose an Amp That Fits Your Needs
When choosing an amplifier, it's important to think about what type of sound you want and how loud you need it to be. If you plan on playing large venues or outdoor gigs, consider a larger amp with higher wattage that can deliver plenty of volume without distorting your sound. For smaller spaces or recording sessions, opt for a smaller amp with lower wattage that won't overpower the room or drown out other instruments. And if portability is key—for busking or jam sessions—look for an amp that packs plenty of power into a lightweight package without compromising sound quality.
Think About Your Budget
Of course, budget plays an important role in any gear decision—especially when it comes to ukuleles and bass ukulele amplifiers! Fortunately, there are plenty of high-quality options at every price point these days; just make sure you read reviews before making any big purchases. Keep in mind that buying secondhand gear is always an option too; just be sure to check out the condition of any used gear before buying it.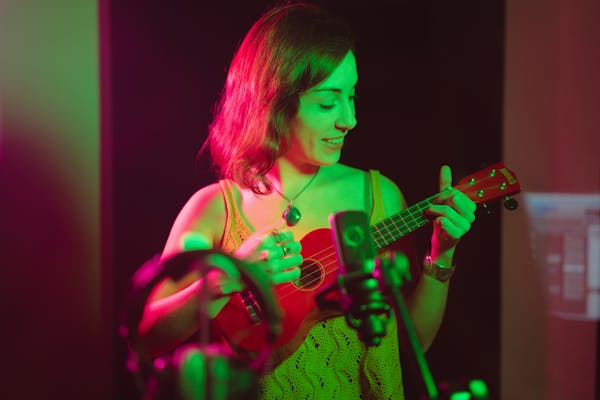 Amp for your Ukuleles
Ukuleles have kept a steady music beat since they were first played in Hawaii by Portuguese immigrants at the tail-end of the 1800s.

Here at Ukulelemate, we know all about strumming those four strings and now our store is stocked with amplifiers specifically tailored to ukulele applications - perfect for when your sound needs some muscle but it still has to be sweet as honey.

Because who wants to lug around an extra-large amp just so everyone can hear you over that caffeine buzz?

So…Get ready, ukulele players! Our new amplifiers come packed with amazing features perfect for any musical situation - from chill backyard jams to epic outdoor concerts. We know you'll love using these amps that give your sound some serious oomph. Go on and rock out like the star you are!
Aroma AG-10A Acoustic Amplifier
It has a powerful and great sound effect, boasting a 10W portable guitar amplifier with a 5" speaker.
A 6.35mm microphone jack makes it possible to sing and play at the same time.
3.5 mm AUX jack lets you plug in your MP3 player or smartphone to listen to external audio.
Each ukulele, microphone, and AUX volume can be controlled independently.
Dual power supply: DC 12V power adapter(included) or 6 * AA batteries(not included), suitable for indoor and outdoor use.
Two straps make it convenient to carry the ukulele amplifier by hand or shoulder.
Power up your ukulele playing with the Aroma AG-10A! This well-designed, hard-working amp will quickly become an indispensable part of any portable performance. Plug it in for 240V power or hit the streets and go battery-powered--either way you'll sound great coming out of its 5-inch speaker at 10 watts. Whether playing at home or busking in the street, this one's got you covered! Get ready to level up your music today!
Aroma AG-15A Acoustic Amp with Rechargeable Battery
Portable 15W acoustic guitar/ukulele amplifier with 5" speaker
With Bluetooth compatibility and microphone input, this device can play music wirelessly.
Powered by a rechargeable battery
It supports guitar/ukulele volume, bass and treble control as well as microphone volume and echo control.
It comes with a detachable strap
The Aroma AG-15A Amp is a perfect balance of size, power and style. This versatile little powerhouse delivers the goods whether you're playing the ukulele or guitar! With its rechargeable battery (whether it be from 240V, USB or even your trusty power bank), plus Bluetooth connectivity for effortless playback - this amp has everything to make sure those musical vibes last as long as possible. All at an amazing price; definitely not one to miss out on! Best of all? It looks super cool. All these features make it an absolute bang for the buck. Tune in today!
Aroma AG-26A Acoustic Amp with Rechargeable Battery
Dual inputs and Bluetooth connectivity make this amp ideal for playing at your local venue or on the street, thanks to its rechargeable battery.
The unit is equipped with a lithium battery that delivers a stable output and has a long life expectancy
Top-hat insert for mounting on PA speaker stand
A separate guitar/ukulele and microphone control section with reverb for each
A separate input for the guitar/ukulele and a separate input for the microphone
The Aroma AG-26A is perfectly designed for the mobile musician - it's a powerful and portable PA in one! Its 6.5" full-range speaker lets your vocals shine through with natural clarity, while its built-in rechargeable lithium battery will keep you playing even on those long gigs away from home. Plus, thanks to two inputs allowing both microphone and guitar/ukulele connection simultaneously as well as separate controls per channel, nothing stands between you and that unforgettable spontaneous show or outdoor session.
With an impressive six hours of playback at 80% volume after just three hours' charge – this mini marvel can make all the difference when it comes time to headline!

This amp's got it all! With Bluetooth connectivity, you won't ever miss a beat - totally jam out to your favourite tunes. And the best part? You'll get total tonal control thanks to its Guitar/ukulele channel with Volume, Bass, Treble and Reverb dials plus a Microphone channel equipped with volume balance tech and an Echo knob for adding some sparkle to your vocals. Finally, bring everything together by tweaking the master volume up or down until things are just right!
Conclusion:
Finding the perfect amplifier for your ukulele doesn't have to be difficult! Just take some time to consider your needs and do some research before making any purchases—it'll help ensure that you get exactly what you're looking for without breaking the bank! With these tips in mind, finding the right amplifier should be easy peasy lime squeezy! Have fun shopping!
---
2 comments
---