What Are Good Ukulele Brands?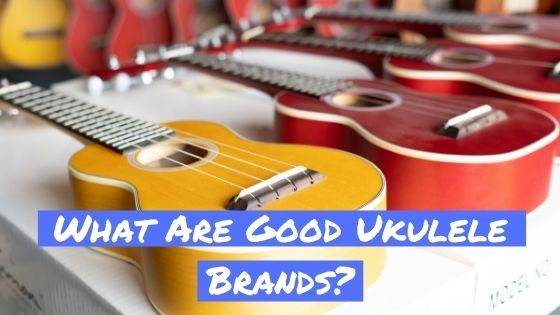 What ukulele brands are the best value?
If you're looking to buy a ukulele right now, what brand or model sounds the best to you?

That's a very difficult question to answer. If this is your first, or even second ukulele, you probably don't have much of a reference.

There are literally a million ukulele brands (figuratively speaking of course...) to choose from. It's enough to induce anxiety in the steadiest of hands. So let's take a look at a few brands that I feel offer the best combination of quality, value, and diversity.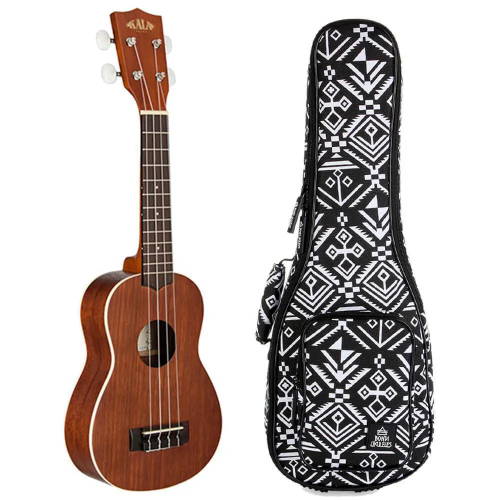 Kala Satin Mahogany Soprano Ukulele
Kala is a Petaluma, CA based company that offers ukuleles designed for beginners, all the way through advanced and pro musicians. I always feel better about buying a less expensive instrument from a company that makes expensive ones. The techniques and quality standards tend to carry over to the less expensive instruments.
You'll find a good mix of woods and sizes with Kala too. From your standard woods like Cedar and Koa, to more exotic woods like Bocote and Ziricote. These look great and offer different tones.
You'll find excellent first ukuleles for around $119. You can keep going up from there all the way to top of the line professional models.
All in all a great brand for your first, second, third.....fourteenth, and fifteenth ukuleles.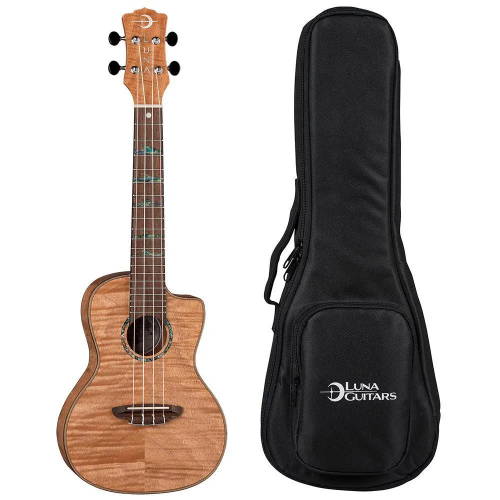 Luna High Tide Exotic Concert Ukulele Bundle
Luna has mostly made a name from the exotic decorations of their instruments. They offer fully painted and stained ukuleles, and lightly etched patterns. If that's not your jam, they do have traditional finishes too.

A lot of the time when companies focus a ton on the finish (specifically paint or dark stains), they're trying to hide something. That's not the case with Luna. These are still built with quality craftsmanship and materials.

They do generally appeal to a younger crowd because of the finishes, but they aren't toy instruments by any means.

Generally you'll find their ukes made of mahogany, but they do offer ukuleles in exotic woods like Zebrawood and Bamboo.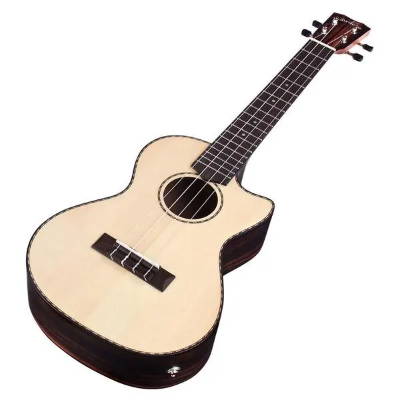 Cordoba 21T Solid Spruce Top Tenor Cutaway Electric Ukulele Bundle
Cordoba is a company that doesn't just make ukuleles. They also make acoustic guitars. This gives their ukuleles a unique acoustic guitar inspired look. This might resonate (ha, no pun intended!) more with guitar players who are learning to play the ukulele.

Making several types of instruments requires a diverse luthier knowledge base. Acoustic guitars and ukuleles share some basic construction principles. But they also have pretty big differences.

These differences require different expertise and engineering. You benefit from these and get a well-crafted ukulele that will last a lifetime.

As with most brands you'll find a variety of woods to choose from. I personally love their ukuleles with ebony back and sides. Absolutely stunning.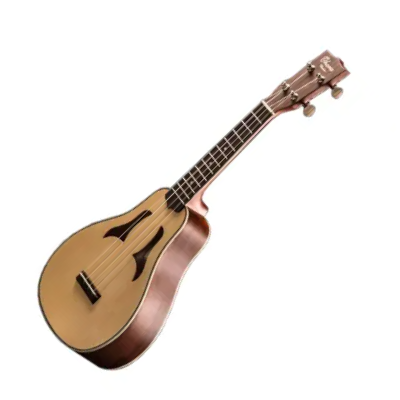 Ohana Vita Style Soprano Ukulele
Ohana is a ukulele maker based out of Long Beach, California. What they really excel at is mid level priced ukuleles. Think of these as upper end beginner models, and moderately priced intermediate models.

They also have some highly affordable, entry-level ukuleles. But spend just a little more to really see what they're made of...

Which is quality materials and construction. The quality control is high and their ukuleles are set up from the factory. That means when you buy an Ohana uke, it has smooth playability and precise intonation.

If you're willing to spend a little more for your first ukulele this is a great brand to check out. They're absolutely perfect for your second, third, and fourth uke.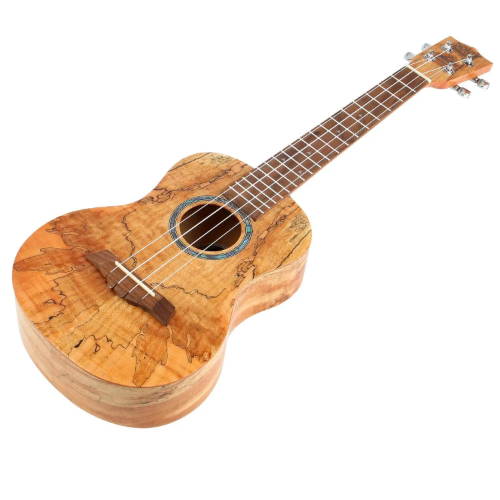 Bondi Spalted Maple Tenor Ukulele
Bondi offers a very wide range of ukuleles from beginner to advanced players. You'll find a variety of wood options, sizes, and price points.

If you're looking for your first ukulele, Bondi offers several lower priced ukuleles that are an excellent value. If you're looking for your second or third you get even more options.

If you're in the second or third ukulele boat (or hammock?), I'd recommend checking out a different wood configuration than what you currently have.

My personal favorite is the Spalted Maple series. Maple is a little brighter compared to other wood types. I think the figuring is absolutely stunning. If you want to balance that brightness of the Spalted Maple, they have Cedar top options.

What brand appeals to you the most? Are you looking for your first uke, or a second/third/etc? Let us know in the comments!
---
1 comment
---