Ukulele For Beginners: Top Picks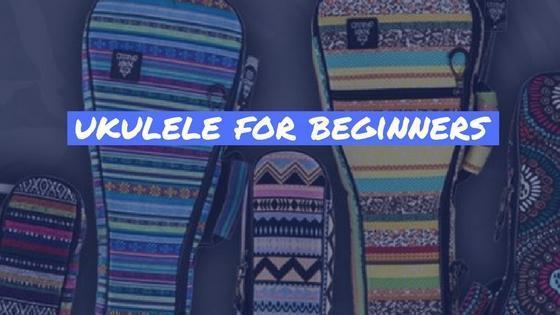 Looking for your first ukulele?

You must be on the hunt for your first ukulele or simply scouting for a reliable instrument as a gift for your loved ones.

Whatever your reasons, you're going to know more about this four-stringed wonder after reading our guide for beginners.

Ukulele is one of the most exciting musical instruments. You can easily learn how to play music with this little bugger - With just a few chords, you'll be able to play and sing your favorite songs in a matter of days.

It is also ideal for people who love to travel. Because of its small size, you can bring it anywhere you go (hassle-free!). 


As a first-timer, there are several things that you need to consider when choosing a ukulele. You probably don't want to spend too much on your first purchase. That's sensible. However, you have to pay attention to the quality of the ukulele when your budget allows for an instrument below $250.
You will definitely see a lot of super cheap ukuleles out there, some even going under $25. And it is very tempting if you're on a tight budget. However, I strongly suggest you avoid them like the plague. Why?Well, most of these low-cost instruments are a pain in the neck.
They are poorly built and unplayable - poor intonation, uneven frets, poor quality strings and a lot more.
Now, you must be wondering. Which ukulele is best for beginners?
Today, we'll take a peek at some of the best selling ukulele brands that are ideal for beginners. You don't need to buy an expensive uke when you are just starting out.
You can actually find a good one without breaking the bank. Here's our pick for the best ukulele for beginners:
Kala Ukadelic Series Ukulele Tribal Bundle


Kala is very popular because of its reputation for producing quality instruments at a very reasonable price. If you want a cool gift for kids, then this one presents a bang for your buck. It has a very colorful design which makes it super attractive for children.

Now, don't let those bright colors fool you. This ukulele is perfect for kids because it is very durable. It's a tough little one that can withstand bumps and let's call it "kid roughness".

There are many designs to choose from:
Click here to view Kala Ukadelic Series - Kala Brand 
Kala Ukadelic Ukuleles are very affordable at $119.95 only. With this price, you already have a starter kit that includes bonus items worth $80. It's just a matter of choosing a design.
Makala Dolphin Soprano Ukulele Tribal Bundle

The Makala Dolphin Soprano ukuleles come in different colors and they got their name from the signature dolphin-shaped bridge. If you just want to dip your toes in the ukulele waters, then this model is a perfect fit. At a price below $100, it was clearly made with the beginners in mind.

Some may mistakenly identify this ukulele as a "toy" but don't judge this little flea by its small size. It is a well-built instrument that sounds really good for an entry-level ukulele.
Click here to view Makala Dolphin Soprano Series
Kala also made a nearly identical ukulele with the same price but with a slightly different design.

Makala Shark Soprano Ukulele Tribal Bundle
The only difference is on how the bridge was designed. And obviously, the Makala Dolphin has the dolphin-shaped bridge while the Makala Shark has the shark-shaped bridge. It's up to you really. Boys typically like the shark and girls like the dolphin but that's not a hard and fast rule. Regardless, they are both really good value for money. For just
$119.95
you can have a complete ukulele starter kit that comes with free accessories worth $80. Again it's just a matter of picking which design you like.
Bondi Mahogany Series Pineapple Tribal Bundle
Every serious ukulele player would want to have this uke in their collection. Well, you may not be that serious yet but you can still have this ukulele at a price that won't hurt your pocket. This iconic pineapple ukulele design is one of a kind. It is a well-built instrument that is made of mahogany. And if you're bored with the traditional looking figure-eight shaped ukuleles, then this one is a good choice.Bondi Mahogany pineapple ukulele produces a mellow sound that is comparable to most expensive pineapple ukes. You'll turn a few heads with this uniquely designed ukulele. For only $159.95, you'll get a complete ukulele starter kit that includes a bonus pack worth $80.
Bondi Mahogany Series Concert Tribal Bundle
Bondi Mahogany Concert ukulele is 2 inches bigger than the soprano. If you want a uke with a longer fretboard and wider range of sound, then this concert ukulele is something that you could consider.Even though it's a bit heavier and longer compared to its soprano sibling, it still maintains that traditional ukulele "twangy" sound. Its mahogany body produces a loud and bright sound that is quite identical to those pricey ukuleles. The quality and feel are impressive for this price point. Most are expecting an entry-level sound quality but they get so much more with this ukulele. You'll get the feel of a premium brand without breaking the bank.You can grab this ukulele for only
$189.95
. Starter kit includes a free bonus pack worth $80.
Bondi Mahogany Series Baritone Ukulele
The Bondi Mahogany Baritone ukulele offers a perfect crossover for guitar players. It is actually the biggest among the four major ukulele sizes. The body is crafted of mahogany and it comes with a natural matte wood finish. It features 18 frets on the neck which is well suited for those players with bigger hands. There are certainly more elegant looking ukuleles in the market especially the premium brands. However, you can't ignore the look of this Bondi Baritone ukulele as it is quite a stunner for an entry-level baritone uke. If you are a guitar player and looking for a quick transition to ukulele, then this baritone uke is an easy pick. You won't have a hard time learning new chord patterns since the tuning resembles that of the four lower strings of the guitar -
D G B E tune.
This uke pumps out a louder volume and delivers a warm tone. You'll certainly appreciate the low action and playability of this baritone uke. It's such a comfortable ukulele to play which is why it is a perfect match for beginners.You can have this uke for a special price of
$229.95
.
Bondi Mahogany Series Tenor Tribal Bundle
If you prefer a sweet and classic sound of the ukulele but want to play with a larger frame and wider fretboards, then you may consider getting a tenor ukulele. It's a perfect match for those guitar players who want to try their hand at the ukulele. While its tone can be a bit deeper and solid compared to that of soprano and concert ukulele, it doesn't actually sway along the bass territory. It's a larger size and is best suited for players who have bigger hands. And if you are a player who enjoys fingerpicking like how Jake Shimabukuro does it, then you will enjoy playing this tenor uke. The additional frets make it ideal for some dazzling fingerpicking exhibition from the nut up to the neck. If you take a look closely, you'll notice that the Bondi Mahogany Tenor Ukulele was clearly made with high-quality standards in mind. The frets are even and smooth, the tuners hold very well and the neck is straight and super comfortable. The mahogany body is beautifully crafted with a simple touch of design surrounding the sound hole. The nut and bridge keep the strings at the correct distance above the fretboard so basically, you won't experience any off keys caused by a string rubbing with an adjacent fret. This makes it easy to play while preventing any fret buzzing.For just
$249.95
you can have a ukulele starter kit with a complete set of free accessories worth $80.
There are plenty of ukuleles to choose from if you want to get involved with the ukulele community. Generally, new players will do well by starting with a uke that fits their hand-size and budget. Although you may feel very eager to buy your first ukulele, it pays to be very careful when making a decision on which brand and model you choose. You may soon want to get yourself a premium quality ukulele once you master a few songs but take a step back and enjoy the process. You'll get there in no time as long as you dedicate yourself to playing this wonderful four-stringed instrument.The information that you learned here should be enough to jumpstart your ukulele journey and help you make a smart purchase.
---
3 comments
---