Ukulele Basic Chords For Beginners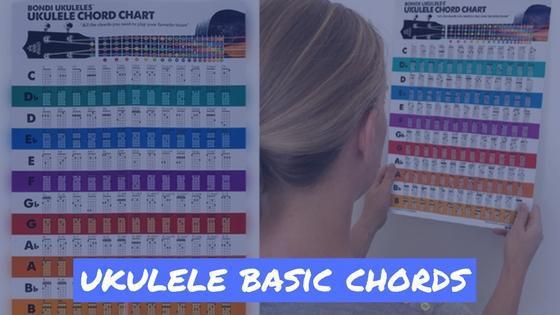 Let's take a quick review of the Ukulele basic chords.

What song have you been practicing lately? Regardless, you need to make sure you can move your fingers easily from one chord to another.

That requires practice and knowledge of the chords.

I remember when I first started playing the Uke. I was quite overwhelmed. I struggled with the chord diagrams, getting the rhythm, tablatures, strumming, and most of all, I didn't know what chords to start with.

Oh, and my fingers hurt so bad, I wanted to quit on the first day of practice.

There are more than a dozen chords and it's a little bit confusing if you don't know where to start.

Today, I'm gonna trim down the charts and let's dive into the first few chords to learn the basic Ukulele chords for beginners.

For your reference, I included the chord charts in this lesson. You don't need to make it complicated in the beginning.
MAJOR CHORDS
First off, everything starts with the Seven Major Chords: A B C D E F G ( La Ti Do Re Mi Fa Sol). The melody of Major Chords is more uptempo and happy.
 Take note that the most important on the list are A, C, D, E, F, and G. Alright, all of them except B.

I find it hard to play the B chord but good thing it is not widely used in most popular songs.

Another Chord that is not that easy to play is E. Apparently, this is one of the Major Chords that is frequently used and you may need to put extra effort when practicing.
MINOR CHORDS
After you master the Major Chords, you can go ahead and learn the Minor Chords.

Minor Chords are widely used and they give a melancholic tone and more intimate feel to a song. Frequently used minor chords are Am, Dm, and Em.
SEVENTH CHORDS
The Seventh Chords are also important as they add groove and funky feel to the song. They are widely used in Jazz, soul and upbeat songs. You can start with these chords: A7, B7, C7, D7, E7, F7, and G7.
CONCLUSION
These are the basic chords to learn if you are just starting out. You can choose a few chords, to begin with, and then expand from there. If you master the chords I mentioned, you are bound to play a very wide range of songs. I guarantee you that.

If you want to learn about chord progression, I suggest you read the basics on how to use the Circle of Fifths.
---
1 comment
---