How To Travel With A Ukulele Without Losing Your Sanity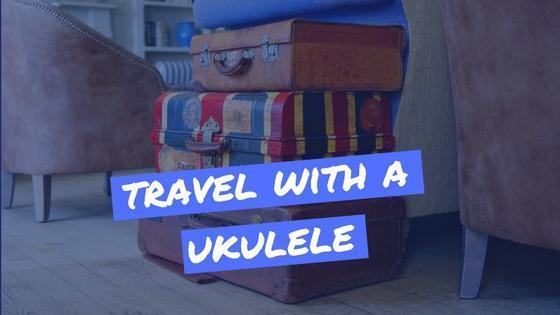 Do you travel a lot? Most ukulele players would love to bring their ukes whilst traveling. What can be more relaxing than playing your ukulele whilst watching the great scenery in the countryside? Or maybe having a nice view of the sunset at the beach...
The truth is, traveling with a fragile music instrument like a ukulele is not an easy task. It can be a nightmare if you don't know how to protect it. This small instrument can be vulnerable to bumps and roughness on the way to your destination so you have to be prepared.
Today, you'll learn a few tips on how to travel with your ukulele without losing your sanity, so you can play it anytime, anywhere!
Here are some of the things that you need to do:
Put your name and contact info on your ukulele case - A tag with your contact number can be helpful just in case you lost your ukulele. But sometimes tags can be easily removed so you should have a backup plan. You can put an ID paper inside and outside the case. If you're too anxious that your uke will be separated from the case, you can put another ID paper with your info inside the sound hole of your ukulele (it's better to be paranoid than to go insane if you lost your uke 😊).
Loosen the tension on strings during flights - The abrupt change in temperature, humidity, and pressures inside the plane can cause a few problems on your ukulele. During flights, the pressure would sometimes increase real quick and as a result, the strings put more pressure on the saddle. This may cause the saddle to pop off or the headstock might be snapped.
Bring extra accessories and tools - A good set of extra strings is a life saver. You don't know when the strings would break during one of your trips. Make sure to have other items like winders, picks, tuners, and humidifier in case you need them.
Try to ask for Priority Boarding - Do not hesitate to ask flight attendants for assistance. You can request the crew to put your ukulele in the first-class closet during flights. Most of the time, you would be surprised how easy it is to have your wish granted. Some genies disguised themselves as flight attendants (wink).
Make sure you check-in early - Most of the time, luggage are lost more often when customers check in at the very last minute or when they transfer between flights. Heck, even if you check in on time, there's still a possibility that your ukulele will not. Some are mistakenly loaded on the wrong plane. So the best way to prevent this from happening is to check-in earlier.
Carry Your Uke - There are actually 3 types of flying with the ukulele. Carry-on, Checked Baggage, Cabin-seat Baggage. You can try a cabin seat for your ukulele but it is way too expensive. When you check your ukulele as a baggage item, it can face the risk of being damaged. What's annoying is when the worst thing that could happen with your beloved uke keeps replaying in your mind during flight. Talk about peace of mind. So, as much as you can, always carry your uke on and put it CAREFULLY underneath your seat or inside the cabin overhead.
Label your ukulele - In case you have no choice but to check in your uke, make sure to put a label that says, "Handle With Care" or "Fragile", so whoever carries it will know that they have to put extra care in handling the instrument.
Go for Gig Bags or Soft cases when you are on a backpacking trip - When you are on a backpacking adventure in the countryside, you don't want to travel with a heavy load. So the best option is to use a soft case or a gig bag with straps because they are cheaper and lighter to carry. You may consider Bondi Ukulele gig bags. They are well-built ukulele bags that is worth your money.
Take a photograph or video your ukulele - You need a proof that can be used for claims if your uke doesn't show up later. So be sure to take a photo or video of your uke at the check-in counter.



CONCLUSION

Your ukulele is like a member of your family so you have to protect it at all cost. After all, you've spent a portion of your hard earned cash into buying this lovely instrument. So it makes sense to keep it safe.  I hope these 9 practical tips for traveling with your uke will help you on your way to your next trip.
---
1 comment
---