How To Play "You Are My Sunshine" On Ukulele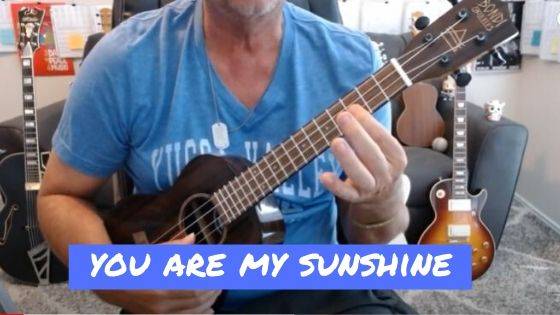 A Little Info About This Lesson
One of the classics that is quite popular is the song, "You Are My Sunshine". It's a happy song that we think has a great melody to play on the ukulele. Popularized by Jimmie Davis and Charles Mitchell in 1939, this song has been declared as one of the state songs of Louisiana, USA because of its association with Davis. A country music singer and at the same time, a governor of the state in the 1940s and 1960s.
New Zealand musician Anika Moa did a great version of "You Are My Sunshine" with customized lyrics on her kids' album, Song for Bubbas. You would love to teach this song to your kids. That's guaranteed. :)
The song has enjoyed enduring popularity for about nine decades. Some people say it's a heartwarming song but a closer look at the lyrics after the first verse tells you that they're better described as "heartbreaking". Some sort of one-sided love. Errr…whatever. Who cares? The song is absolutely one of the most useful songs you can play on your ukulele. So let's start the lesson, shall we?
Jeffrey's Instructional Video
---
Book A Free Lesson with Jeffrey Thomas
Jeff is offering a free 30 minute lesson over Skype to ukulele players of any level. Jeff is the best in the business and can provide expert knowledge on mastering "You Are My Sunshine" by Jimmie Davis and many more songs of your choice. Jeff is a friend of ours at UkuleleMate and has been teaching Aussie students for many years, we can't speak highly enough of him. We encourage you to go ahead and schedule your free lesson today.