Exploring Elegance and Melody: aNueNue Cedar Bird Tenor Ukulele UT214 Review
When it comes to musical instruments that effortlessly blend artistry with playability, the aNueNue Cedar Bird Tenor Ukulele UT214 stands out as a true gem.
With its rich tonal character, exquisite craftsmanship, and inviting playability, this ukulele beckons both beginners and seasoned players alike to explore the world of enchanting melodies.
In this review, we'll dive deep into the captivating features that make the aNueNue Cedar Bird UT214 a harmonious choice for any musician.
If you're on the lookout for a fantastic ukulele that offers excellent value, come along as we explore this absolutely stunning ukulele. Are you all set? Let's dive right in!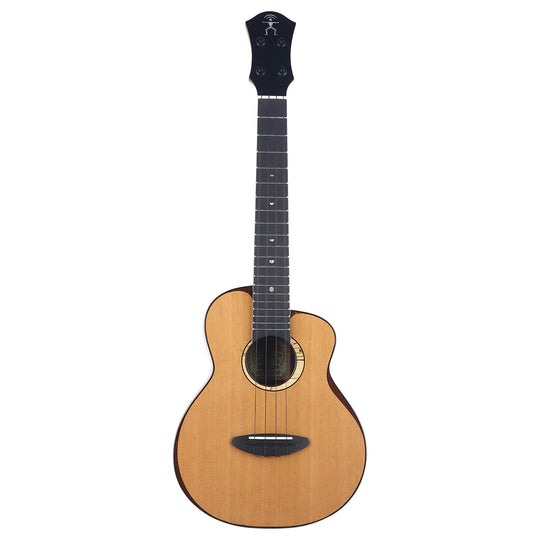 Elegance in Design
From the moment you lay eyes on the aNueNue Cedar Bird UT214, its understated elegance captures your attention. The ukulele's body is crafted from carefully selected cedar wood, known for its warm and resonant properties.
The reddish-brown hue of the cedar not only exudes a natural charm but also enhances the instrument's tonal complexity over time.
The satin finish adds a touch of refinement, making the UT214 an instrument that's equally pleasing to the eyes and ears.
Impeccable Craftsmanship
aNueNue's dedication to craftsmanship is evident in every detail of the Cedar Bird Tenor Ukulele UT214. The body is expertly contoured to provide optimal comfort during play, allowing your fingers to effortlessly glide along the fretboard.
The tenor-sized body strikes the perfect balance between portability and a rich, full-bodied sound. The precision in the construction is apparent in the instrument's flawless intonation and resonance, ensuring that your melodies sound as clear and captivating as you intended.
Enchanting Tonal Palette
One of the standout features of the aNueNue Cedar Bird UT214 is its impressive tonal range. A warm, well-balanced sound that is both comforting and expressive will greet you as soon as you strum the first chord.
The cedar wood imparts a touch of sweetness to the highs while maintaining a rich, resonant bass. Whether you're strumming chords or fingerpicking intricate melodies, the UT214 responds with remarkable clarity across the entire frequency spectrum.
Versatility in Sound
What truly sets the aNueNue Cedar Bird UT214 apart is its versatility. Whether you're drawn to folk, classical, jazz, or pop, this ukulele accommodates a wide range of musical styles.
The well-defined projection ensures that your melodies fill the room with grace and vibrancy, making it an ideal choice for both solo performances and collaborative jam sessions.
Whether you're a seasoned ukulele aficionado or a newcomer to the instrument, the UT214 empowers you to explore new musical horizons.
Playability that Inspires
The playability of the aNueNue Cedar Bird Tenor Ukulele UT214 is a testament to the brand's commitment to creating instruments that inspire musicians. The smooth, mahogany neck is designed for optimal comfort, allowing your fingers to glide from fret to fret effortlessly.
The rosewood fingerboard adds a touch of elegance and provides a natural surface for precise fretting. Whether you're a beginner or an experienced player, the UT214's playability encourages you to experiment and push your musical boundaries.
Final Verdict
In the world of ukuleles, the aNueNue Cedar Bird Tenor Ukulele UT214 stands as a harmonious blend of elegance, craftsmanship, and captivating sound. Its cedar body, impeccable design, and versatile tonal palette make it a must-have for musicians seeking an instrument that speaks to their artistic journey.
Whether you're strumming beneath a starlit sky or recording in a studio, the UT214's enchanting melodies and inviting playability are sure to make your musical moments truly memorable.
Discover the world of musical possibilities with the aNueNue Cedar Bird UT214 - where melody meets elegance in perfect harmony.
Also available in electric ukulele version: aNueNue Cedar Bird Tenor Electric Ukulele UT214E

Interested?
Feel free to drop your questions in the comments section, and we'll be quick to respond. Enjoy your ukulele shopping and have a great time!