Best Concert Ukulele Under 300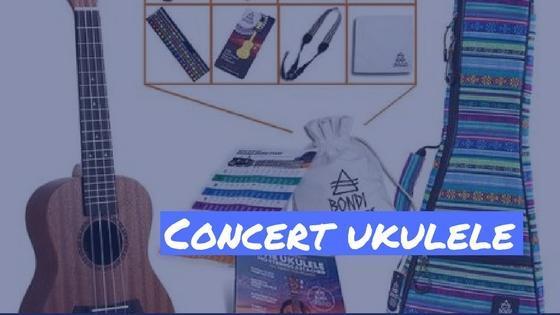 Looking for a new ukulele?
Chances are, you've landed on this page because you are thinking about getting a Concert ukulele and you don't know much about it.
If you are looking for the best Concert ukulele under $300, we have some good advice for you.
Today, I'm going to show you what I think are the top picks in this price range.
Concert ukulele
was introduced into the music market way back in the 1920's. They were created as an alternative to the traditional soprano ukulele. It proved to be a success as the larger size of ukulele became a hit amongst ukulele enthusiasts.
Whether you're a complete beginner or an experienced ukulele player, there's no doubt that the concert ukulele is perhaps the most versatile of all the
ukulele sizes.
It is 2 inches longer than a
Soprano Ukulele
and despite being larger, it remains portable enough to take on trips. It also produces a bigger sound compared to a soprano ukulele.
There are a lot of brands out there that produce great ukuleles and I could name more than 10 of them. However, giving you a lot of options can be more confusing than helpful.
I've tried lots of brands and many of them sound great. However, two brands stood out to me and really grabbed my attention.
They were the
Kala ukuleles
and the
Bondi ukuleles
.
Here's my review of both brands:
Kala Satin Mahogany Concert Ukulele
Kala Ukulele has made a big impact on the ukulele community, especially within the last 3 years. They are one of the best choices for people who want a well-made and great sounding ukulele at a reasonable price.
One of the most popular models that Kala produces is the
Kala KA-C Concert Ukulele.
Paired with premium Aquila nylgut strings, you can be sure that you'll get a great sounding ukulele right out of the box.
Overall, this instrument feels easy to play when you hold it and the additional 2 inches offers plenty of room to develop as a player.
Prominent musicians who use Kala ukuleles include
Michael Mcdonald
of Doobie Brothers and
Joe Brown
which Kala has a signature ukulele named after him.
If you want to know more about the Kala KA-C Concert Ukulele,
Click Here.
Kala Exotic Mahogany Concert Ukulele
If you're on the lookout for a more exotic looking type of ukulele, then you may want to check this one out:
The first thing I noticed with this model is the unique grain of the wood. It has a distinct grainy appearance that makes it gorgeous on the eye. The top, back, side and neck are all made of exotic mahogany in a laminate build. This keeps the price reasonable. If it were solid wood, we would be looking at $600+, maybe more.
The bridge and fret board are made of rosewood and it has a classy black binding on the body which matches the exotic wood while maintaining it's stunning natural look.
It's not a solid wood ukulele but don't let that fool you as it still produces a gorgeous tone. You get a good bang for your buck with this uke being around the $200+ price range.
If you want to know more about the Kala Exotic Mahogany Concert Ukulele,
Click Here.
Bondi Mahogany Series Concert Tribal Bundle
This brand of Ukulele is starting to gain popularity among the ukulele crowd. It is one of the best-built ukuleles at a price point below $300.
Soon as you get your hands on a Bondi Mahogany Concert Ukulele, you'll notice that it easily matches the quality and playability of most high-end ukuleles in the market. This is because it was designed and built with high quality in mind and extreme attention to detail.

The body is built with mahogany and it comes in a natural matte wood finish. The neck holds a walnut fretboard with 18 frets and it is combined with quality chrome tuners.

The sound quality is really good with the Italian made Aquila strings.

This ukulele is ideal for anyone looking for a stylish instrument that will last a lifetime and won't break the bank. 

The Bondi Mahogany Concert Ukulele comes with a starter kit. The ukulele alone is worth taking, but having a whole set of accessories that go along with it at a very affordable price? You can bet your bottom dollar you'll love this ukulele.

The value you get for under $200 is absolutely incredible. It also comes with a lifetime warranty so you can buy with confidence from an Aussie company.

If you want to learn more about this model, Click Here.