aNueNue Kyas Whale Private Reserve Hawaiian Koa Tenor Electric Ukulele Review: Unveiling Unmatched Craftsmanship and Sound Quality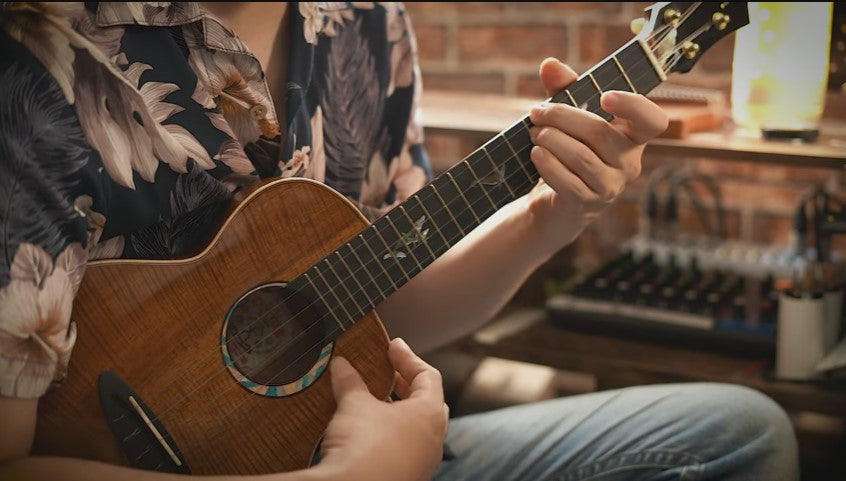 Hey there, music lovers!

It's that time again when we take a break from our air guitar shenanigans and dive into the world of ukuleles.

And today, we have a real head-turner that demands your attention.

Brace yourselves for the aNueNue Kyas Whale Private Reserve Hawaiian Koa Tenor Electric Ukulele!

Seriously, folks, this ukulele is a jaw-dropper.

We're talking about craftsmanship that would make the gods of woodworking shed a single tear of admiration.

Handcrafted with meticulous care from the crème de la crème of Hawaiian Koa, this instrument takes luxury and artistry to new heights.

In this no-holds-barred review, we're peeling back the curtain to reveal the mind-blowing features, design so exquisite it's like a work of art, and sound quality that'll make your ears go, "Holy ukulele, Batman!"

The Kyas Whale is more than just a ukulele—it's a force to be reckoned with in the ukulele universe, leaving other strummers green with envy.



So grab your favourite beverage, put on your comfiest pair of socks (because we all know ukulele jams are better in socks), and prepare to have your mind blown.

We're your friendly guides on this sonic adventure, ready to spill all the secrets behind the Kyas Whale's magnificence.

Are you excited?

Well, hold on tight because we're about to embark on a wild ride through the world of unrivalled craftsmanship and ukulele awesomeness!

Let's do this!
Exquisite Craftsmanship:
This Hawaiian Koa is on a whole new level with its mind-blowing curly wood patterns. It's like the boss of all woods, seriously dense and super strong.
And get this, as a top, it's got some natural compression action going on that keeps things in check when you go all out with your aggressive playing. 
The wood's exceptional quality, with its mesmerizing rippling patterns and intricate details, creates a visual spectacle that is simply breathtaking.
Oh, and let's not forget about those crystal-clear, razor-sharp trebles. Koa's got your back when it comes to that articulate sound you crave. It's like music to your ears, literally!
The honey-hued tone of the Koa adds to its allure, making it a delight to behold and a joy to play.
Ornate Elegance:
One cannot help but be captivated by the Kyas Whale's elaborate ornamentation. Paying homage to the grace and majesty of the whale, aNueNue has adorned the body, fretboard, and headstock with intricate mother-of-pearl inlays depicting humpback whales.
This artistic choice beautifully complements the instrument's charm and intuition.
Additionally, the offset soundhole rosette depicts the mesmerizing allure of the ocean's surface and was painstakingly crafted from a combination of maple, rosewood, and azure turquoise stone.
Every detail of the Kyas Whale exudes opulence and refinement.
Unparalleled Sound Quality:
Beyond just being beautiful to look at, the Kyas Whale is also a master of tone and playability. The ukulele possesses the signature brightness and clarity that are characteristic of aNueNue instrument.
Its deep, complex mid-tones and delicate overtones, combined with its rich, vibrant tone, captivate both musicians and listeners.
Whether you are a fingerpicking virtuoso, a strumming enthusiast, or a riff-loving artist, this instrument's versatility ensures that it will complement any playing style.


Furthermore, the Air Air pickup system guarantees an amplified sound quality that is on par with its acoustic performance, ensuring exceptional sound reproduction in any setting.
Honoring Kyas Ryo:
The name "Kyas" pays homage to the renowned Japanese ukulele player, Kyas Ryo, who has dazzled audiences worldwide with his exceptional talent and versatility in various genres such as Jazz, Rock, and Pop.

This ukulele serves as a tribute to his professionalism and creativity, inspiring players to reach new heights and explore their own musical boundaries.

The Kyas Whale embodies the spirit of a true artist, inviting musicians to embrace their inner virtuoso.
Final Verdict
In the realm of ukuleles, the aNueNue Kyas Whale Private Reserve Hawaiian Koa Tenor Electric Ukulele reigns supreme. Its flawless design and unmatched sound quality place it at the pinnacle of excellence.

Handcrafted from the finest private reserve Hawaiian Koa, this instrument is a visual marvel, boasting intricate ornamentation and meticulous attention to detail that will leave you in awe.

But it's not just about looks; the Kyas Whale delivers where it matters most—performance.

Its versatility knows no bounds, accommodating musicians of all styles and skill levels. With precise intonation, exceptional playability, and a tonal range that will make your heart sing, this ukulele is a gateway to new realms of musical expression.

Whether you're a seasoned professional seeking to amplify your performance or an enthusiastic ukulele lover eager to embark on a melodic journey, the Kyas Whale is your perfect companion.

Embrace its beauty, and let it unlock the boundless potential within your own artistry.

So, my friend, take the plunge and let the Kyas Whale carry you away on waves of musical brilliance. Let it inspire and uplift your soul as you create melodies that touch hearts and leave an indelible mark on the world.


With the Kyas Whale, the possibilities are endless, and your musical journey awaits.

But hey, I can't just leave you hanging here without a plan…

Head on over to our website and check out the mind-blowing aNueNue Kyas Whale Private Reserve Hawaiian Koa Tenor Electric Ukulele.
Trust me, once you see it, you'll be hooked. It's like love at first strum!