Learn To Play the Lola Marsh version of "Something Stupid"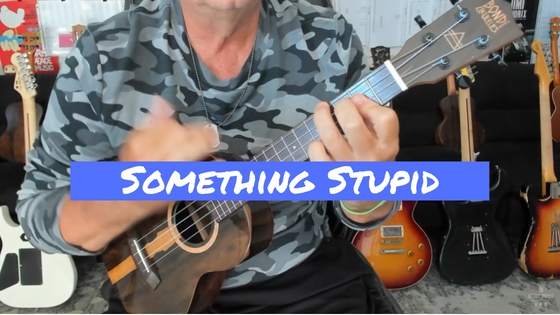 A Little Info About This Lesson
"Something Stupid" is a song written by C. Carson Parks. As Carson and Gaile, Parks recorded it in 1966 with his wife Gaile Foote. The 1967 version by Frank Sinatra and his daughter Nancy Sinatra was a major international hit, reaching the top of the Billboard Hot 100 as well as the UK Singles Chart. A cover version by Australian actress Nicole Kidman and British singer Robbie Williams reached number one on the UK Singles Chart in 2001.

Better Call Saul fans will be familiar with this classic tune from the hit TV series. Here's how you can play it on the ukulele! The flamenco guitar technique used in Lola Marsh's version is known as "rasgueado." In order to learn what that means, Jeff Thomas has broken down a short clip showing some of its most basic strums for those who may not know. Remember, you can also play the song with basic strumming. It's a beginner-friendly song that anyone can learn to play.
Jeffrey's Instructional Video
Original Version
Book A Free Lesson with Jeffrey Thomas
Jeff is offering a free 30 minute lesson over Skype to ukulele players of any level. Jeff is the best in the business and can provide expert knowledge on mastering "Something Stupid" and many more songs of your choice. Jeff is a friend of ours at UkuleleMate and has been teaching Aussie students for many years, we can't speak highly enough of him. We encourage you to go ahead and schedule your free lesson today.
---
1 comment
---