Electric Ukulele vs. Acoustic Ukulele: Should I Buy Ukulele With Equalizer Or Not?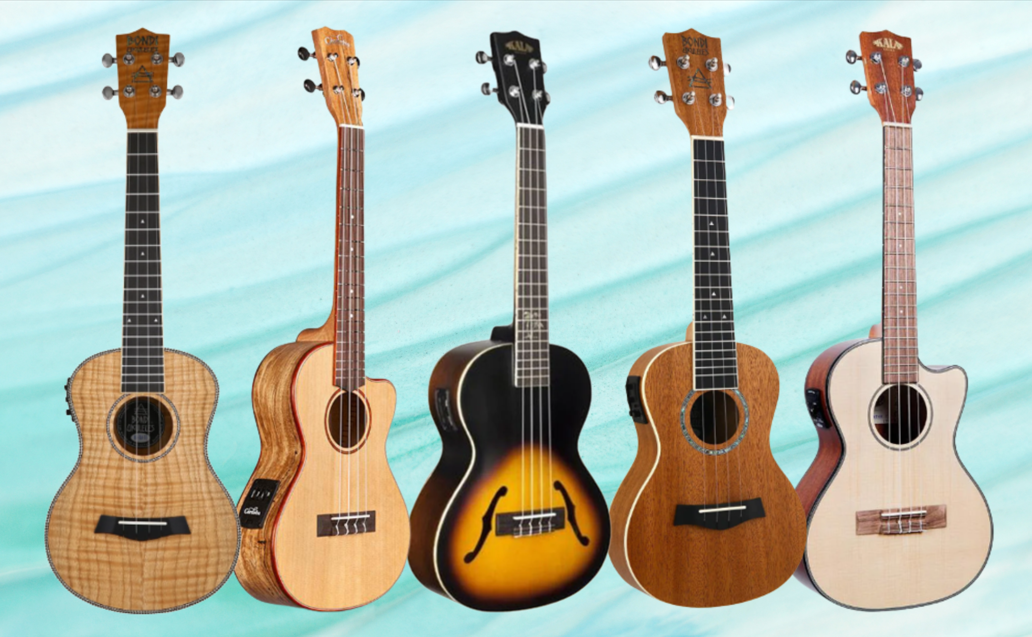 Are you looking to add some extra boost and depth to your music? Or maybe you have a sweet spot for the traditional sounds of an acoustic ukulele but crave something a bit more complex in terms of tone?

You may be wondering, "Should I invest in an electric or acoustic ukulele?"

The debate between electric vs. acoustic ukuleles can certainly get heated. If you're considering purchasing a ukulele, one of the decisions you'll need to make is whether or not to buy a model with an equaliser.

Stuck trying to pick from two similar options? Don't worry – we've got you covered! Join us for a comprehensive look at both, and figure out which one suits your playing style.
No more head-scratching: get ready to settle this once and for all. Ready for the verdict? Let's dive into it!
WHAT IS AN ACOUSTIC ELECTRIC UKULELE?
In general, acoustic-electric ukuleles can be played either acoustically or with an amplifier and sound system, making them electric instruments. Built-in pickups and preamplifiers enhance the audio through amplifiers or other audio equipment.

If you want the flexibility of playing both acoustic and electric styles, or if you want to perform in larger venues that require a louder sound, this type of ukulele is a great choice.
Acoustic-electric ukuleles are available in a variety of sizes, from soprano to baritone, and can be constructed from different materials, such as wood, plastic, and metal. An amplifier or sound system can be connected to them through a 1/4" jack, and some models come with volume and tone controls.
WHAT DO EQUALIZERS DO ON UKULELES?
An equalizer enables you to modify the ukulele's sound by manipulating various frequency bands. To put it simply, an equalizer is a tool that can precisely adjust the tonal balance of a ukulele.

This device has several sliders or knobs that can adjust the bass, midrange, and treble, among other frequency bands. You can boost or cut particular frequencies using these knobs to change the overall tone of your ukulele. You could, for instance, increase the bass frequencies to give your ukulele a richer, more rounded sound, or you could lower the treble frequencies to take away harshness or sibilance.
Ukuleles with built-in equalizers often also come with a pickup system that allows you to amplify the sound of your ukulele through an amplifier or PA system.
The pickup system captures the sound of the ukulele's vibrations and sends it to the amplifier, where the equalizer allows you to adjust the sound before it is amplified.

Here's the interesting part...
Having an equalizer on your ukulele can be particularly useful in performance settings, where you may need to adjust your sound to fit the acoustics of the room or to cut through other instruments. It can also be useful in recording situations, where you may want to fine-tune the sound of your ukulele to fit the mix of the recording.
It's important to keep in mind that ukuleles with equalizers built in are typically more expensive than those without, so you might not need them if you don't intend to perform or record with your ukulele. Whether or not to get a ukulele with an equalizer is a personal choice that depends on your needs and preferences.
DO YOU REQUIRE AN EQUALIZER OR NOT?
Here are some factors to consider when deciding whether to buy a ukulele with an equalizer:
Amplification Needs: If you plan to perform in front of an audience, a ukulele with an equalizer can help you amplify your sound. An equalizer can help you control the tone and volume of your sound, which can be especially important when playing in a large venue with lots of background noise. If you're just playing for fun or at small gatherings, you may not need an equalizer.
Style of Playing: If you prefer playing fingerstyle, you might benefit from having an equalizer. When playing fingerstyle, a softer sound that is difficult to hear in noisy environments may be produced. An equalizer can help you boost the treble and midrange frequencies, which can make your playing more audible.
Budget: Generally, an equalizer-equipped ukulele will be more expensive than a similarly-sized ukulele without one. If you're on a tight budget, you may prefer to go with a basic ukulele that doesn't have an equalizer.

Personal Preference: The decision of whether to buy a ukulele with an equalizer comes down to personal preference. If you think you'll benefit from having an equalizer, or if you simply like the idea of having one, then it might be worth the investment.
Which Acoustic-Electric Ukulele Should I Buy?
You've been smitten by the electric ukulele, so now it's time to take a good look at each model that tickles your fancy. Remember, choose wisely, and you'll be strumming out some sweet tunes in no time!

When plugged in, how does this ukulele sound compared to when played acoustically?
How does this ukulele's EQ system work, and what features does it have?

Ukulelemate has your back when it comes to finding the perfect ukulele! Over the past ten years, we have provided reliable, fantastic-sounding instruments with easy-to-use features.

Here is a brief rundown of our electric ukulele selection, broken down by potential instrument budget:
Bondi Arcadia Mahogany Concert Electric Ukulele
Ready to get your groove on with a ukulele that won't break the bank? The Arcadia Series by Bondi Ukuleles is just what you need! We've tried out plenty of instruments in this price range, and these are definitely one of our favorites. They boast perfect construction with great playability using Japanese carbon strings - plus they look gorgeous too! With an indigo pearl rosette detail, maple body & fretboard bindings, and even an inlayed logo – it sets itself apart from the competition which usually resort to cheap stickers or screen printing. For $200-$300 you'll be strumming away like no other!
Kala Arch Top Tobacco Sunburst Tenor Ukulele
Get ready to party like it's the Roaring '20s with this ultra-swanky Kala Arch Top Tobacco Sunburst Tenor Ukulele. It brings together vintage archtop guitar design and modern touches, from its groovy f-holes and arched body, to a radiant sunburst finish that oozes style - plus there are those little pearlescent palm tree fretboard details for an extra wow factor! With spruce top combined with mahogany back & sides delivering a bright but full sound, you can get whatever tone your heart desires courtesy of its inbuilt pick up.
Kala Spruce Mahogany Tenor Electric Ukulele
Strum along to the impressive sounds of this tenor uke! Comprised of a Solid Spruce top and Mahogany back/sides, it combines classic looks with modern, reliable chrome die-cast tuners that make sure your intonation stays perfect. The glossy finish is beautifully accented by traditional white/black binding for an elegant look - plus if you're taking straight onto stage then there's also the Shadow Nanoflex EQ system so you can be heard loud & clear over every mix. Get ready to experience good vibes like never before!
Bondi Tiger Oak Tenor Electric Ukulele
With the Tiger Oak Ukulele Series, Bondi shines a light on an underutilized tone wood: oak. Striking and unique striping highlights this beautiful material, contrasted beautifully with ebony fretboard and bridge accompanied by Caesar Herringbone binding & rosette for added visual splendor. For tonal flexibility, these ukuleles are equipped Silk Chrome tuning machines so you can make each note sound just right! Plus enjoy fast playability thanks to its natural matte finish neck - all crafted together in one package of stunning looks plus brilliant tones that will captivate any discerning player's heart.
Enya Nova U Carbon Tenor Pro Ukulele - Electric - Black
If you're sick of your ukulele-playing sounding samey, the Nova U series is here to shake things up! With unique soundhole configuration and carbon fibre construction, these tenor ukes ooze bright tones that'll tantalize all ears. Plus don't worry about comfort - they have an ergonomic design with a thin profile so playing for hours won't feel like torture. And best of all? They come at great value thanks to Enya's innovative experimentation in materials and designs that continues pushing boundaries throughout their industry – just another way this brand keeps giving us something fresh and exciting!
Cordoba 24T-CE Spruce & Spalted Maple Tenor Electric Ukulele
The 24 series ukuleles from Cordoba are nothing short of amazing! These bad boys have it all - the stunning combination of a solid cedar top and spalted maple back, Padauk features on the rosette, body and fretboard to make them even more eye-catching. Oh, let's not forget about that gorgeous spalted maple veneer headstock either. And with its cutaway design they do much more than just look great: easy access to those highest frets means you can really unleash your inner rockstar... or at least take your tunes up octaves without running out musical room!
If you're looking for a unique twist on the classic ukulele and want to see more choices, then take a look at our electric collection! We've got plenty of options so you can find exactly what your music needs.
WHICH ONE SUITS YOU BEST?
Ukuleles are fantastic instruments, and equalized ukuleles really up the game with exciting features. Whether you're playing for fun, for stage performances, or for recordings in the studio, investing in a great equalized ukulele could be just what you need to get the most out of your musical experience.

After all, with all these sound-enhancing options an electric ukulele provides, it can bring out new possibilities in your playing! Now that you know a little bit more about what an electric ukulele has to offer—and who knows? It might just help take your music to the next level!

Now comes the really tough question: Should you take the plunge and get one? Ultimately, it's up to you and your individual needs. The only real way to decide is to put your trust in yourself, so go ahead and make that leap of faith when it comes to deciding whether or not an electric ukulele is right for you.

So, should you pick up an electric ukulele or not? Let us know in the comments below—we'd love to hear from you!