Cheap ukuleles: Are they any good? A Quick Look at the Pros and Cons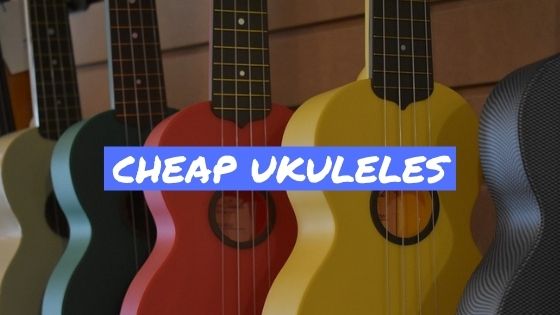 Those who are new to the ukulele world usually have one objective in mind: find the cheapest ukulele they can find.

It's understandable if you are uncertain whether to pursue your interest in ukuleles or not.

A cheap ukulele, however, is barely qualified as a real instrument. Sadly, ukuleles in this price range are more likely to have serious issues that can affect the quality of the instrument. As a result, it might be difficult for players to play them.

Nevertheless, it's not impossible to find an affordable ukulele today. But, you should keep in mind that not all budget ukuleles are the same. To help you decide whether it's worth investing in a cheap ukulele, here are some pros and cons:
Pros
You won't have to break the bank to afford it. Ukuleles are generally cheaper than other musical instruments, so buying a cheap ukulele upfront will ensure you won't overspend. The process of saving up to buy a ukulele doesn't take forever, and that's good news for people who want to immediately acquire an instrument.
Maintaining instruments is not too complicated. When it comes to instrument maintenance, there is not much to worry about. Ukuleles that are bought from a gift shop for a few dollars won't need much care if you got them for cheap. You didn't really spend much money on the instrument so breaking it doesn't seem like a huge expenditure. It's not a big deal to get another one if that happens.
It's already capable of teaching you how to play. Any cheap ukulele should be able to help you learn the basic fundamentals of playing the instrument, regardless of whether the quality is poor or not. Despite having a limited budget, you should not let it stop you from learning how to play an instrument. And a cheap ukulele should be good enough to introduce you to the world of music.
Cons
As with any cheap product, there are drawbacks that you need to take into account. This is something that you must understand. But if you cannot resist the temptation, here are a few things you may want to consider before making a purchase:
It is fragile and can be easily broken. Cheap ukuleles are susceptible to breaking. Because they're constructed from low-quality wood, they can warp instantly due to changes in weather. Some of these ukes are made from cheap plastic materials as well, so you can expect them to crack easily with the slightest bump.
Ukuleles may not sound as vibrant as they should. One of the most common disadvantages of cheap ukuleles is that they may not have a good and vibrant tone in comparison to more expensive entry-level, midrange, and high-end models. It is common for cheap ukuleles to have poor quality, which usually means that the tone of the instrument is sacrificed. In general, quality ukuleles are known to play with a bright, crisp sound. Cheap ukuleles, on the other hand, can sound lifeless and dull.
They're hard to tune. Due to the substandard materials used to make these cheap ukuleles, you'll soon find out that the strings don't hold tune properly. And more often than not, the tuning gears aren't cooperating either. This is a problem that can affect the way a beginner learns to play. With an instrument that keeps going out of tune easily, learning can be challenging.
You may feel discouraged to play. Cheap ukuleles are inherently harder to play. Apart from being made from low-quality materials, the overall craftsmanship is also questionable. It is difficult to play specific chords on these instruments due to their small and uneven frets. And in many cases, you may have to press harder on the strings in order to get the kind of sound you want. The difficulty of learning the ukulele can discourage beginners, making it pointless to buy one in the first place.
INVEST IN QUALITY UKULELE BRANDS
Having learned about the advantages and disadvantages of cheap ukuleles, you're probably wondering what are the best choices of ukuleles available and where you can find them.
There are a few ukulele brands that are great for players regardless of their experience level. Do you want to know what's the best ukulele for you? No problem! Check out our buyer's guide
HERE
to get you started.
---
1 comment
---