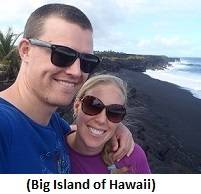 My name is Joel, I am the owner of UkuleleMate and an obsessed ukulele enthusiast who owns over 30 ukuleles. Unfortunately I wasn't born with any musical talent, none whatsoever. My parents didn't play any musical instruments either, so that made it difficult too. There may have been a distant relative in our family tree who played the guitar once, but I certainly wasn't born with any talent. I had to learn from scratch.
Good news though, I have become what I would call a "brown belt" and both my parents now play the ukulele. I guess you can teach a couple of old dogs new tricks. If they can learn - anyone can!
I am also married and have a lovely wife who jokes that the only musical talent I was born with was my backside! How dare she!
How I Discovered The Ukulele
I took a trip to Hawaii back in 2006. Ukuleles were everywhere, literally there was dudes playing them on every beach. Sounds cheesy, but it was awesome. I brought one home with me, couldn't play it to save my life. Friends laughed at me when I tried. "You're kidding yourself mate".
I didn't put that uke down for about 6 months after that. Eventually I turned into a pretty good ukulele player. Having said that, I certainly won't be challenging Bruce Shimabakuro anytime soon. I became the master at waiting until my family and friends were drunk and then I would magically appear with a ukulele! I could stink it up and they would still love it
How Did UkuleleMate Start?
I was working in online retail at the time, so I decided to start UkuleleMate. I wanted and knew I could provide more value than the current handful of large corporate music stores. I was a one-man show for a couple of years.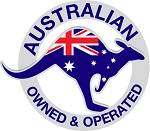 Then came the ukulele explosion and demand went through the roof. We now have an awesome team of 9 people and we are growing. Growing in size - yes. We probably need to "grow up" a bit, but where's the fun in that!
Where is UkuleleMate Based?
We are 100% Australian. Our ukuleles are shipped from our warehouse in Swan Hill, VIC and also our Sydney warehouse depending on which product you order.
We are the only ukulele company in the world who actually teaches our customers to play. We give you access to our training videos for free and provide you with a bunch of learning materials such as chord charts, fingerboard stickers, chord stamps and more. We will even teach you how to play some current songs so you can impress your friends. We have a dedicated ukulele instructor who produces fantastic training videos and articles. Even these oldies pictured on the right learnt from our program!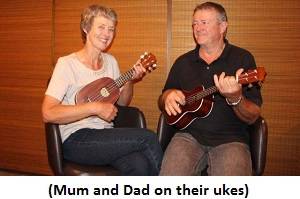 Bend-Over-Backwards Customer Service
We will literally bend over backwards in our efforts to look after you. Just give me some notice so I can start stretching now! All jokes aside, our goal as a company is to deliver your ukulele as fast as possible and get you playing like a boss. We do joke around alot but those rare times when we are acting like mature adults - we are looking for ways to look after our customers. Whether that be equipment, training videos, chords etc. You can expect a 110% effort from all of our staff. If you need anything at all, give us a shout, we are ready to help.
The Complete Ukulele Experience
Most companies just sell you a ukulele. We are different.
We provide you with all the tools you need to actually learn and play the instrument. We have built an entire "ukulele experience" for our customers.
Everyone Gets a Bonus Pack Worth Over $80
Free Tuner + Free Uke Strap + Free Picks + Free Chord Stamp + Free 55-Page Book + Free Bookmark + Free A3 Chord Chart + Free Freboard Stickers + Free Lesson + Free Training Videos
This stuff is worth over $80 alone and is extremely handy stuff.
We have new training videos available to our customers each month. If you look around the internet, you will find websites who charge a monthly fee for training videos. With us, you get them all for free.
Our Philosophy - if we sell you a uke, we help you learn to play it.
 
If we are fortunate enough to gain your business, we will provide you with the professional service that you deserve. When you purchase a ukulele from us, our relationship has only just begun. We offer on-going ukulele training and support. In the unlikely event that there is an issue with your product or delivery, we will bend over backwards to fix the problem at no cost to you. We guarantee this.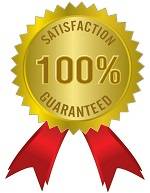 Our business depends on word of mouth, we do everything possible to ensure our customers are happy. We invite you to become one of the many thousands of ukulele players who have trusted us.
Thank you kindly for this opportunity to share our story.
Joel Matthews